Our partners form a worldwide network of manufacturers and providers for state of the art machinery, consumables and software in the direct to garment printing industry. With the support of our partners we are able to provide the best DTG solution that fits your business model.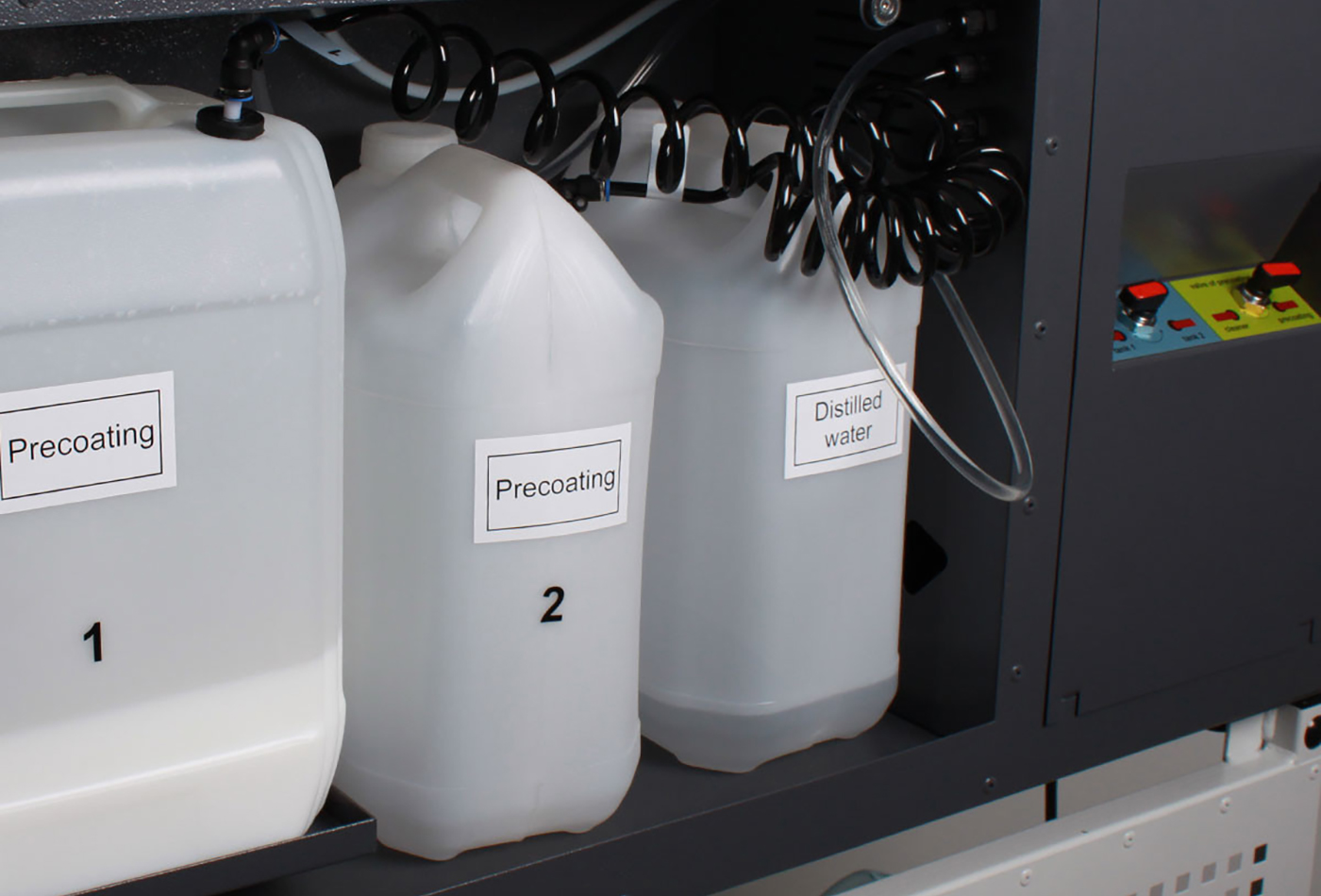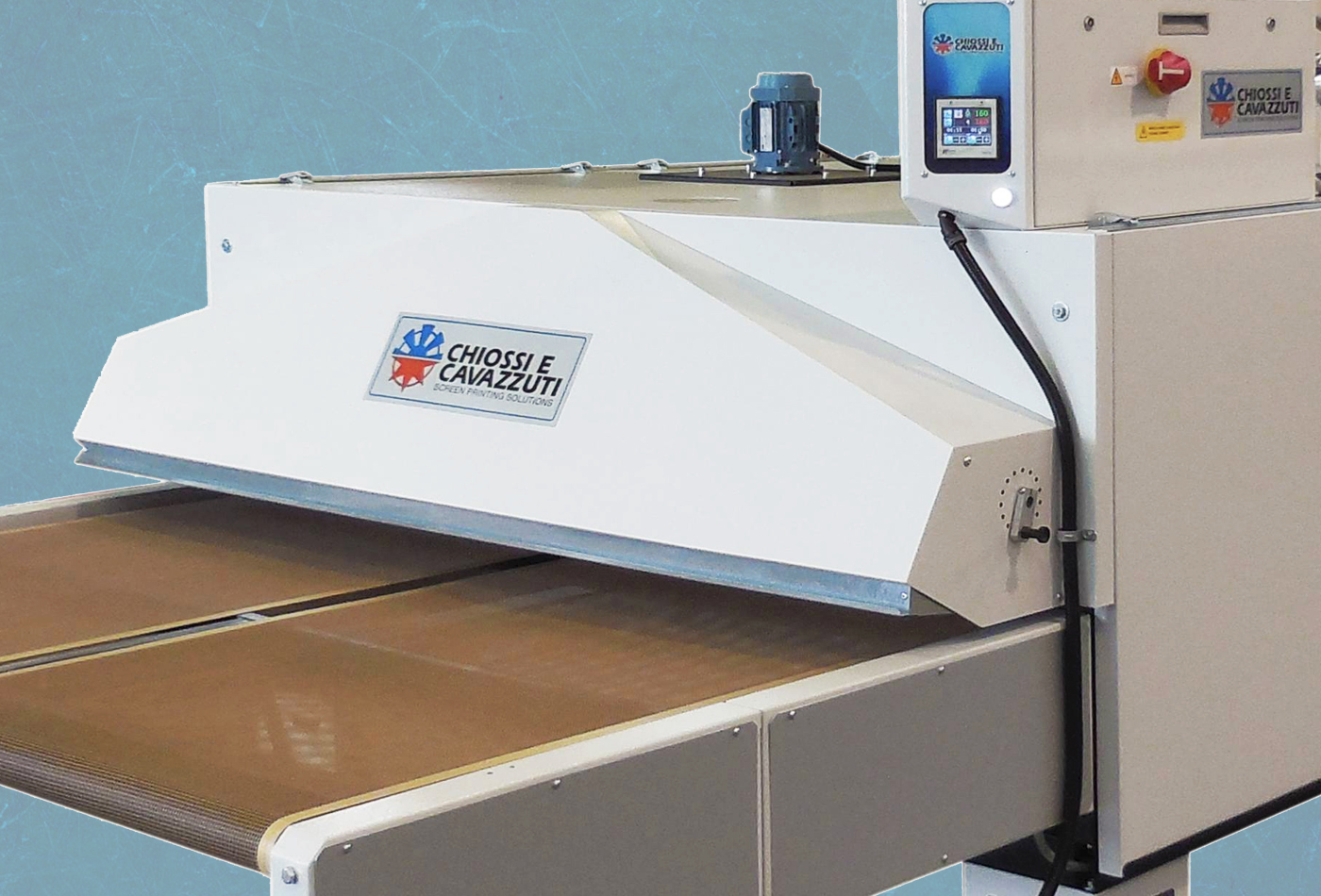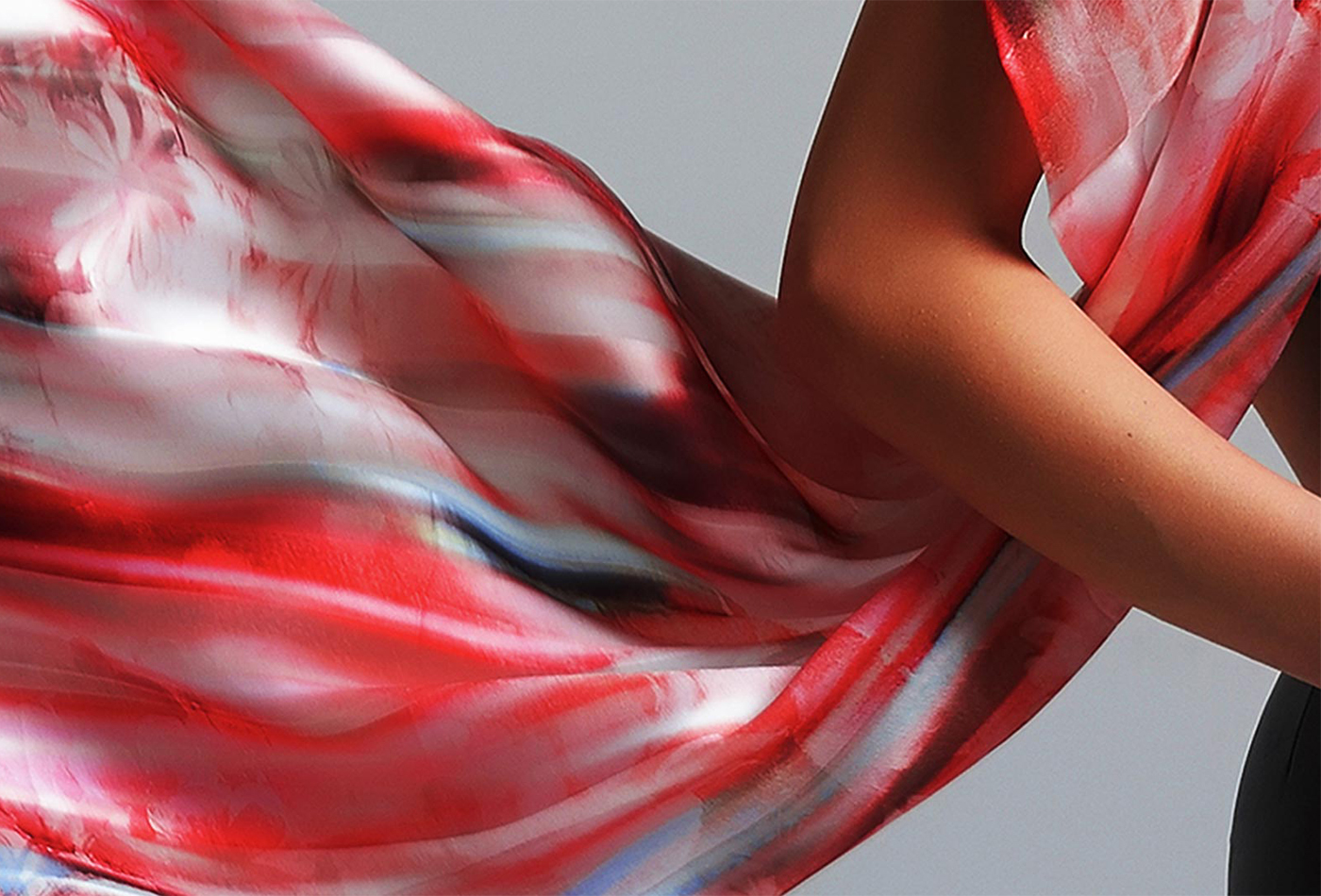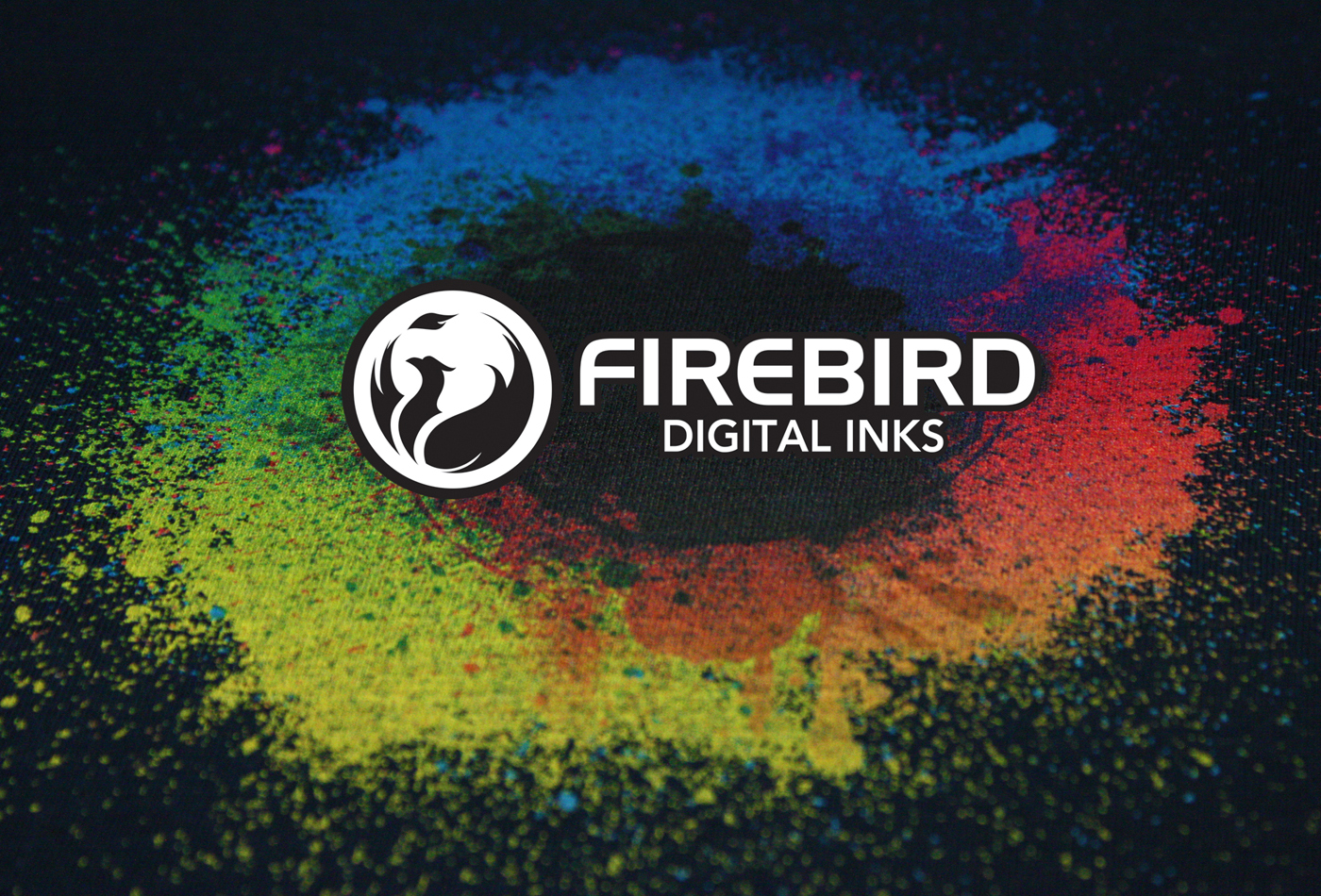 Polyprint
Polyprint is the Greek company dedicated to textile printing. Established in 2003, Polyprint achieved continuous growth since the first introduction of the TexJet® direct to garment printer in 2006. TexJet® DTG printers are available in more than 55 countries through a global network of local distributors.
DTG Digital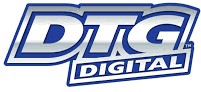 For over a decade Impression Technology/Pigment.Inc (brand: DTG Digital) has designed, built and distributed numerous digital industrial print equipment in the emerging markets of Textile, Graphics and Industrial marking. With corporate head office, R&D and laboratory facility located in Sydney, Australia, state of the art manufacturing and service centers in Singapore, Netherlands and Malaysia and a dedicated team of global distribution partners the brand is among the global market leaders and respected within their communities because of our continual commitment to research and development.
Schulze
Walter Schulze GmbH is one of the biggest and most significant vendors for high-quality transfer heat-press and direct to garment pretreatment machines in the German and European market. The well-established company history dates back to year 1955. Walter Schulze has a storage area with over 10.000 sqm and a 250sqm showroom and training center in the heart of Berlin.
Ecofreen

Ecofreen Co., Ltd. is based in Korea and supplies the premium quality of digital textile printing products manufactured based on innovative R&D, well-organized strict production and quality control system with the finest production facilities. It is one of leading manufacturers of Pretreatment liquids and Automatic Pretreat Spray machine Mister-T1 in Korea with export to more than 50 countries.
Sefa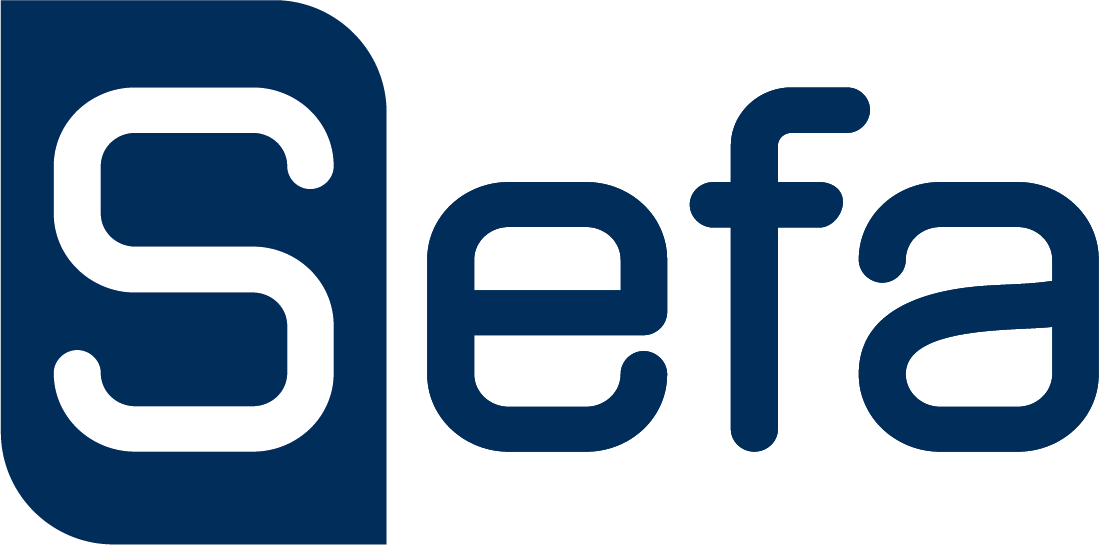 Sefa has been for more than 40 years, French designer and manufacturer of hot transfer presses for the textile industry. With an international experience and a recognized quality of products, SEFA offers standard or personalized solutions to transfers on T-shirts, sporting goods, caps, luggage, cups, mousepads and other items of visual and photographic communication. The presses have various preprocessing and drying solutions for direct printing applications.
Chiossi e Cavazutti

Chiossi e Cavazzuti was founded in 1979 at Carpi (MO) as a producer of dryers (paper, PVC sheets and textiles) but it soon branched out into all that concerns screen printing industry. With approximately 6.000 customers, 40 International and 20 Italian distributors the brand is a well-known protagonist in the screen and digital printing global market.
Cadlink

A technology-leading software developer, CADlink Technology has been providing complete, industry-specific design and production solutions for over 27 years. Originally providing software to the sign making industry, CADlink quickly recognized that to stay competitive, many sign shops needed to add a variety of new products that required unique workflows involving different types of production devices. It was then that CADlink engineers began developing new software solutions for markets such as engraving, CNC machining, wide format digital printing, UV printing, screen printing and more recently digital printing specialty markets such as direct to garment, toner heat transfer, dye sublimation, label/sticker and many more fast growing digital print markets.
Dupont

DuPont is the leading supplier of innovative and high quality inks and materials that enable faster and more efficient digital printing.
DuPont research and development provides industry leading science based formulation and testing expertise for aqueous inkjet ink development, pigment dispersion, dye concentrate development and polymer synthesis development. DuPont also has extensive experience in co-operative proprietary dispersion and ink development with printer OEMs.
Image Armor
Image Armor is the US-based manufacturer offering direct to garment t-shirt printers an easy to use and reliable alternative to the standard DTG pretreatments (also referred to as underbase) usually offered with DTG inksets. The three formulations available all offer improved finished print quality, greater wash-fastness and a wider application window for your DTG prints. The Image Armor E-SERIES™ inks have changed the industry with a TRUE 35 second white ink cure on black shirts with improved durability in the wash, keeping the capping station and wipers clean while providing better coverage and whiter whites.
Firebird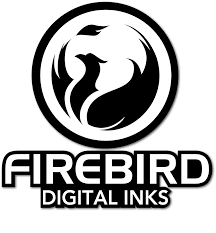 Firebird Ink is the Direct To Garment brand of Eastern Tech Company. A specialty ink & coatings manufacturer, headquartered in Milford, CT. The experienced team of chemists and production technicians have researched, developed, and produced the highest quality ink products for various industries in the United States and Worldwide. Eastern Tech works directly with OEM partners, developing solutions for market. The company targets ink innovations in everything that it does.
Our partnerships are officially established and verified with the official authorized and exclusive agreements, certificates of distributorship and proven track record of sales achievements. Below are some of the certificates available for public view.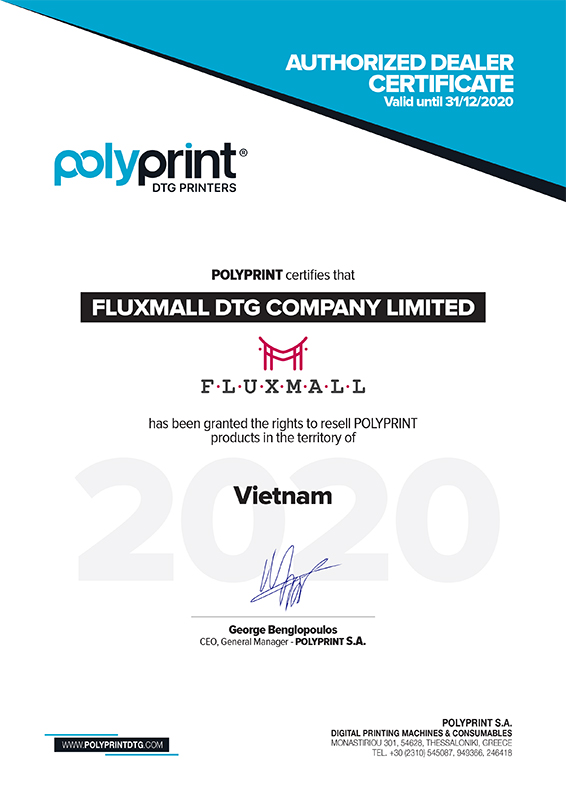 Polyprint 2020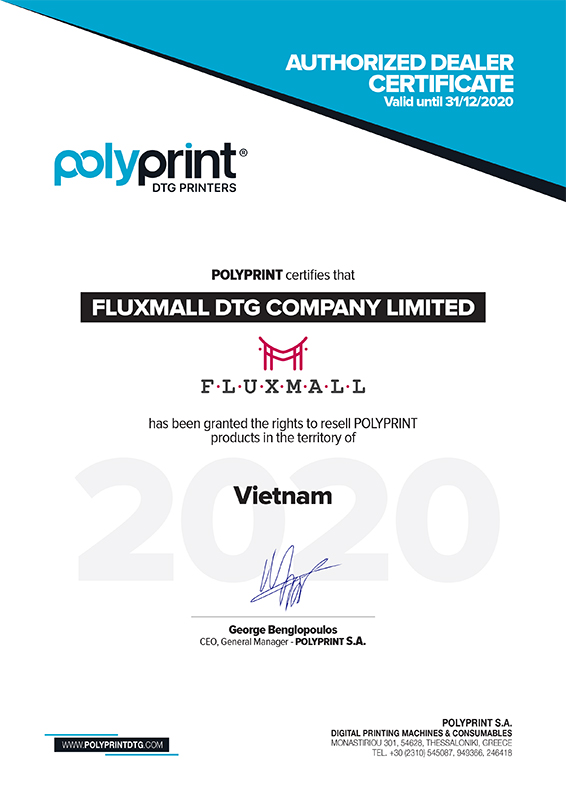 Impressions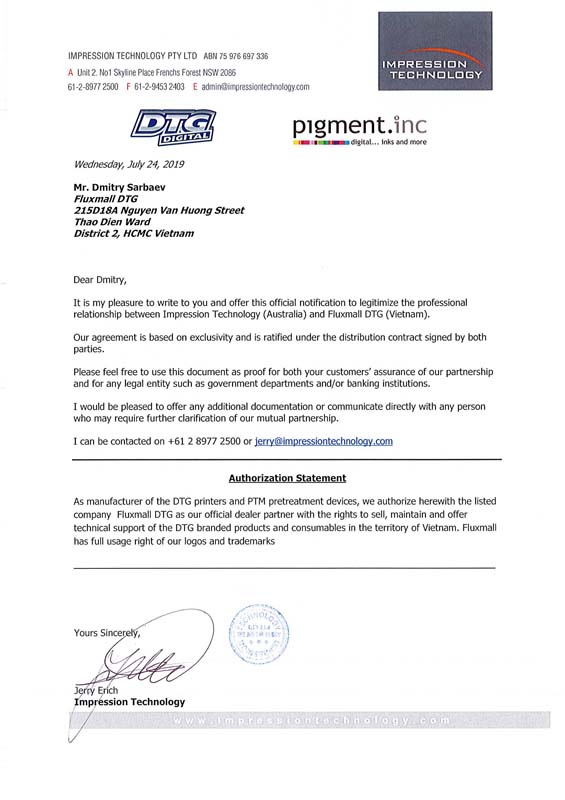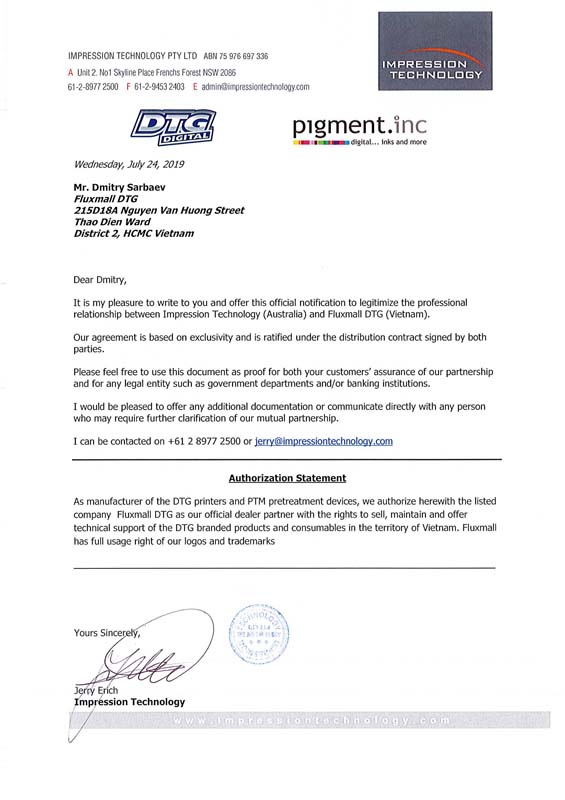 Ecofreen 2020
SEFA 2020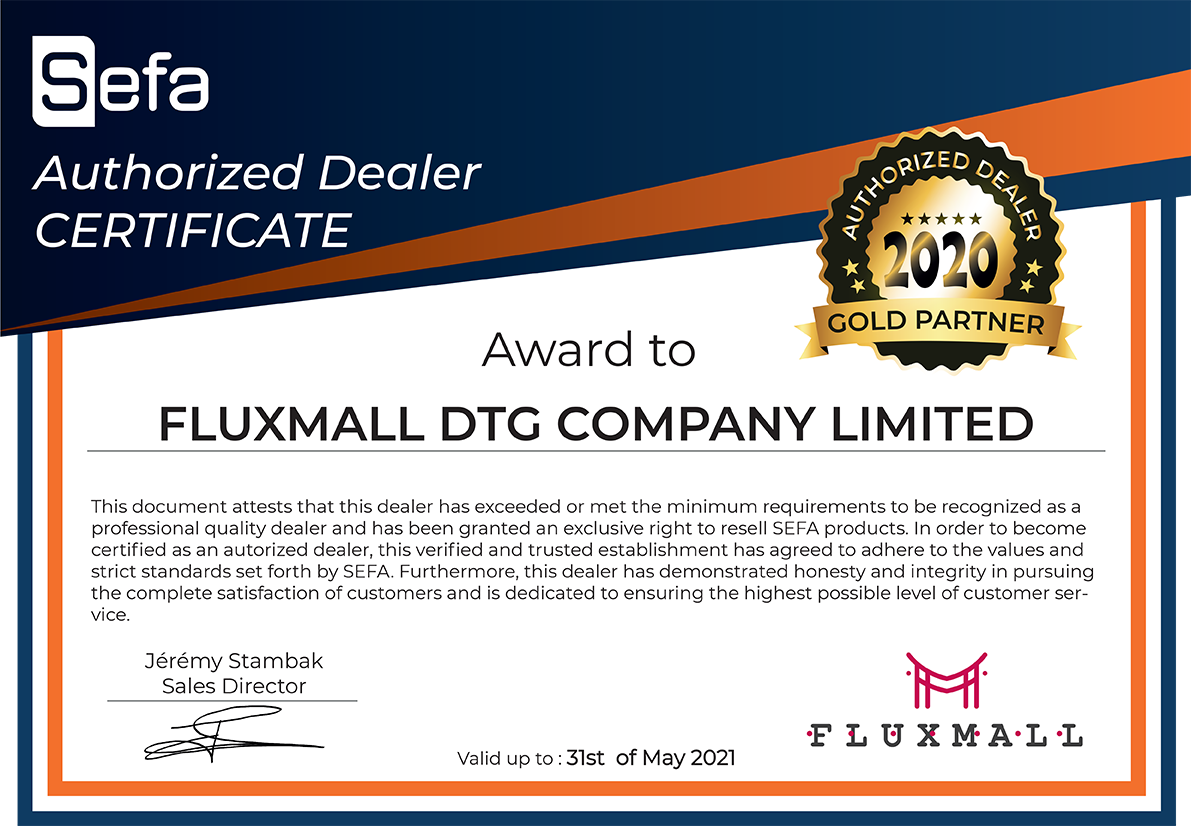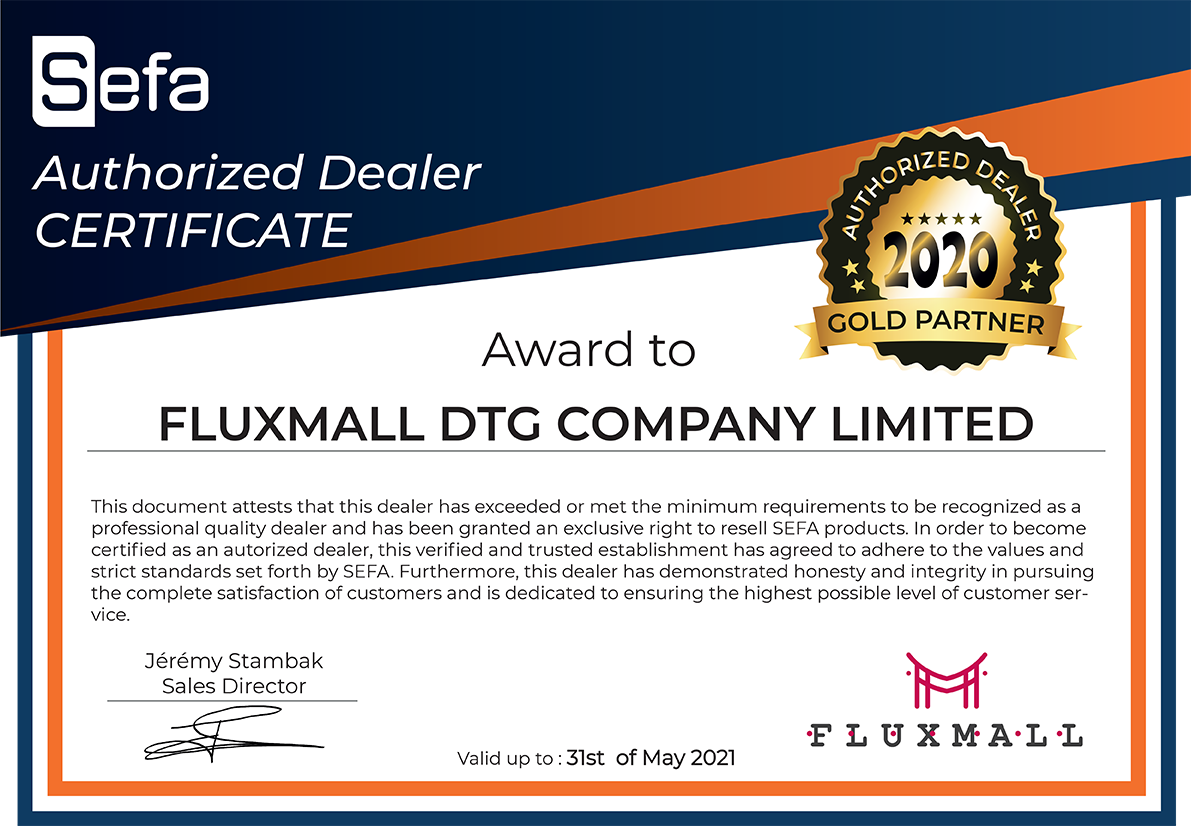 Firebird 2020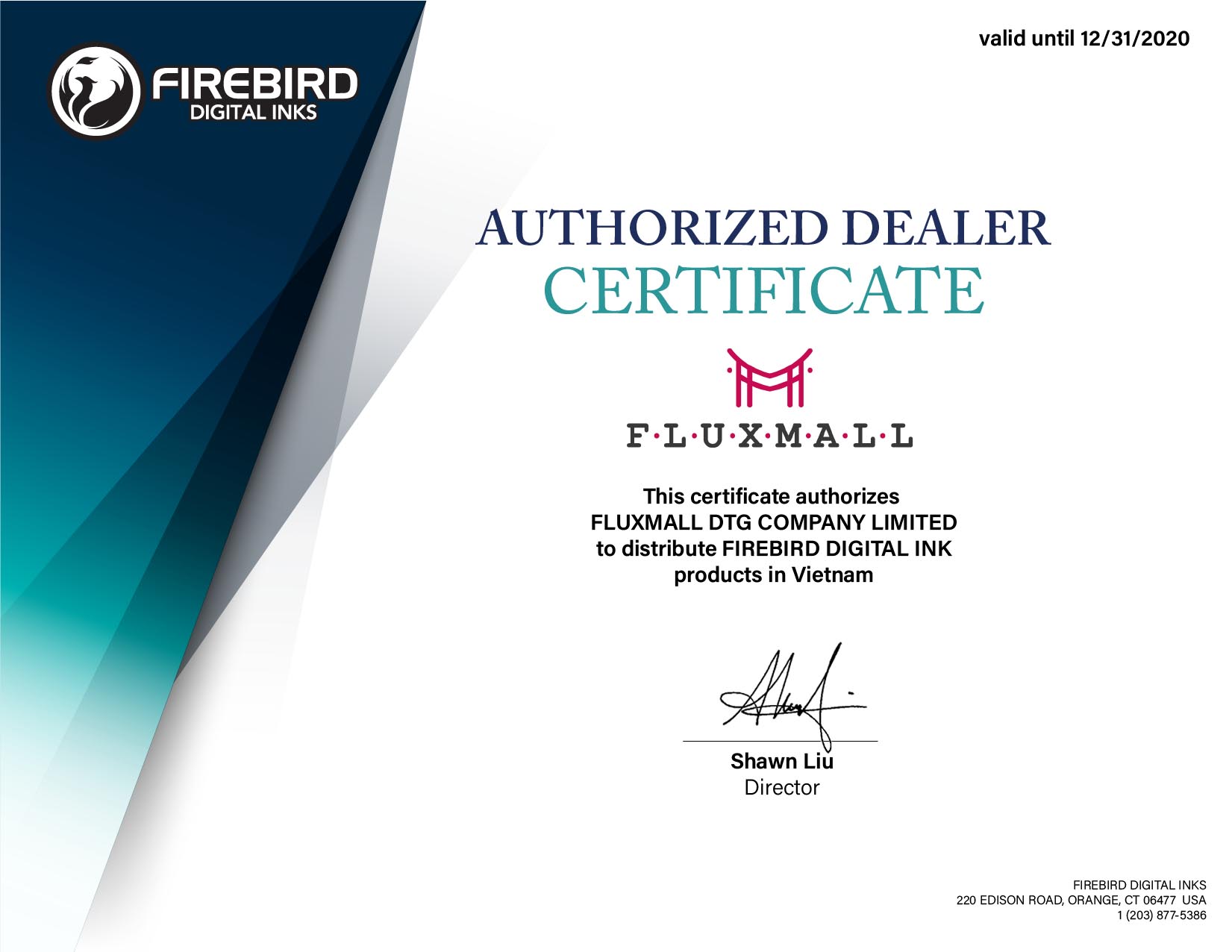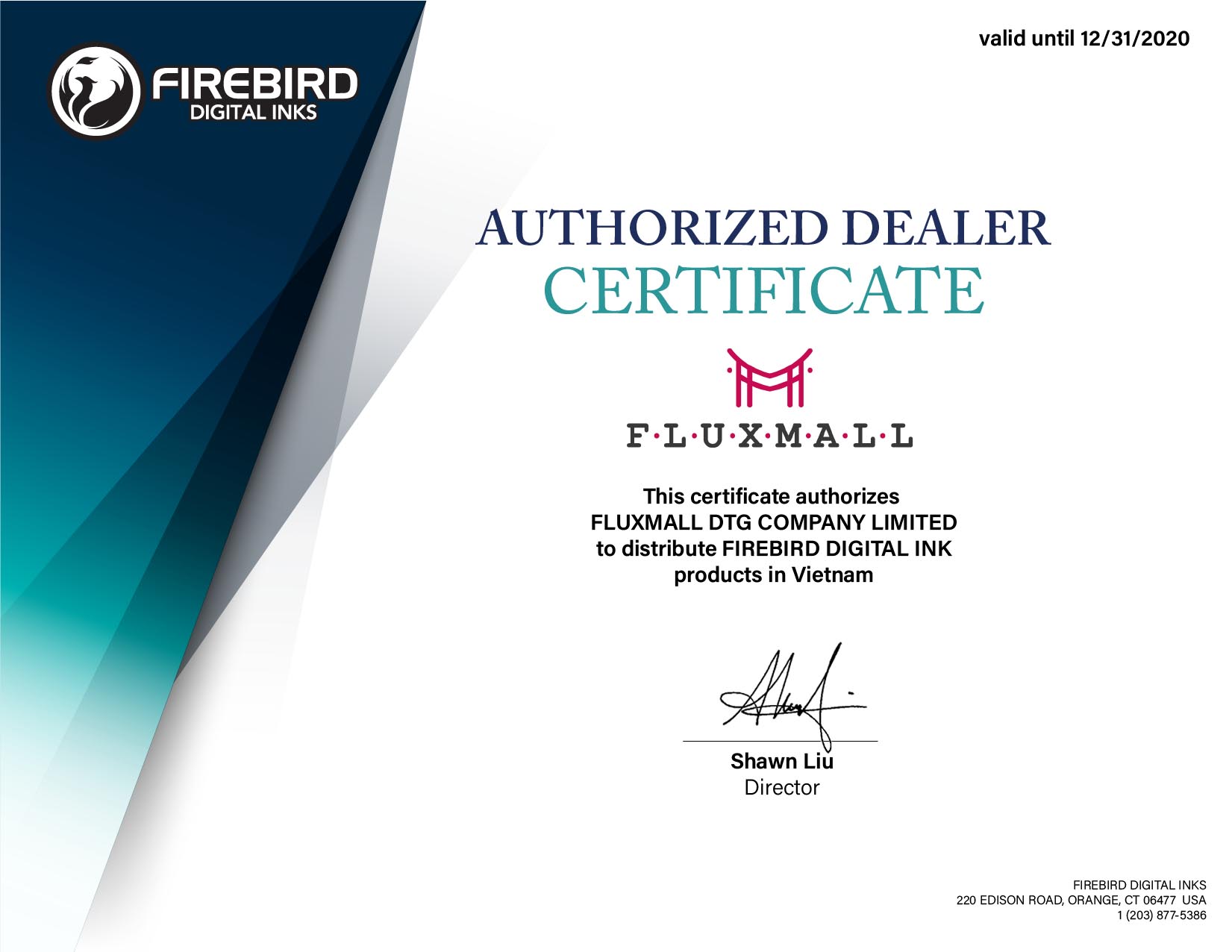 CEC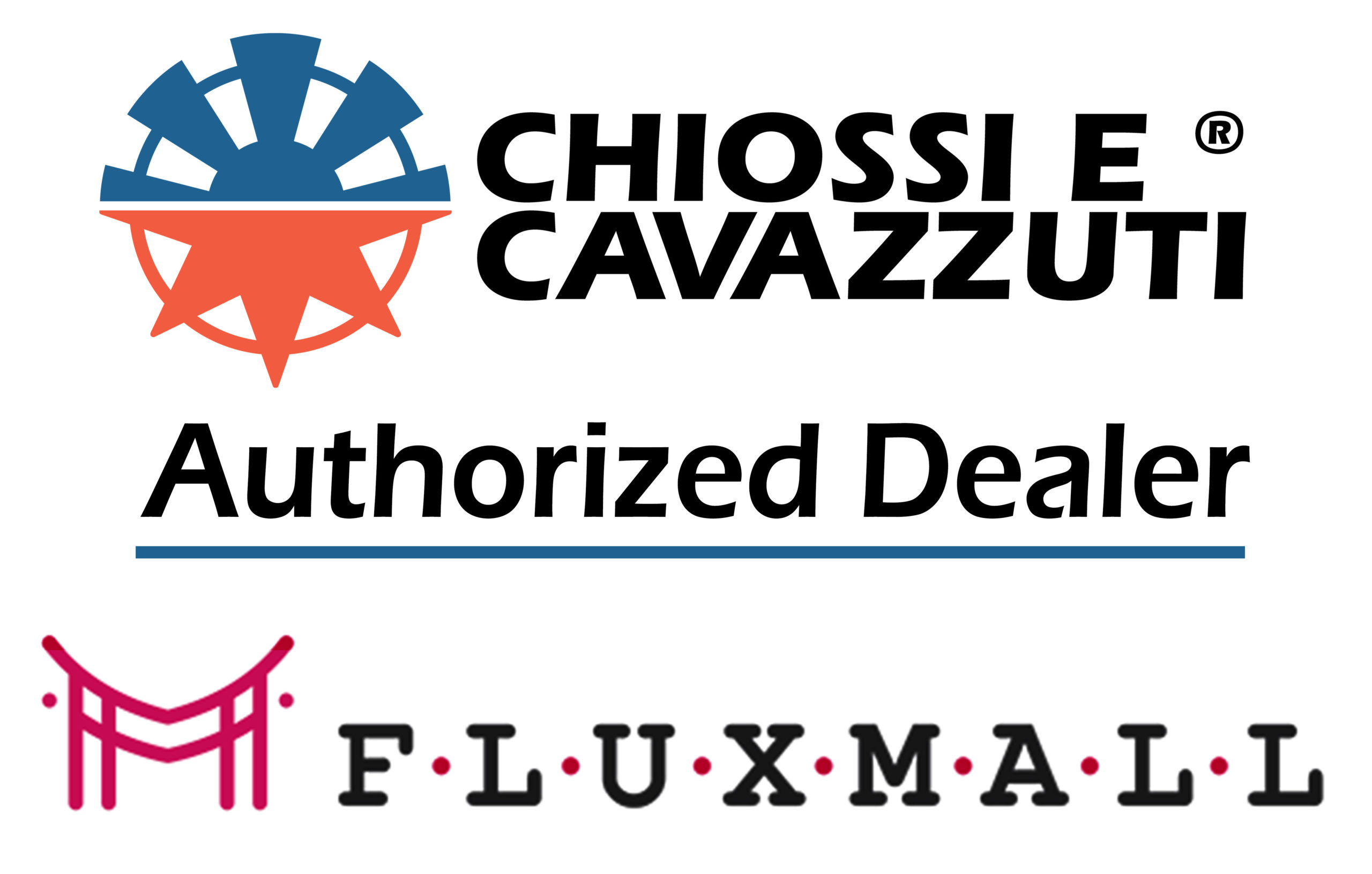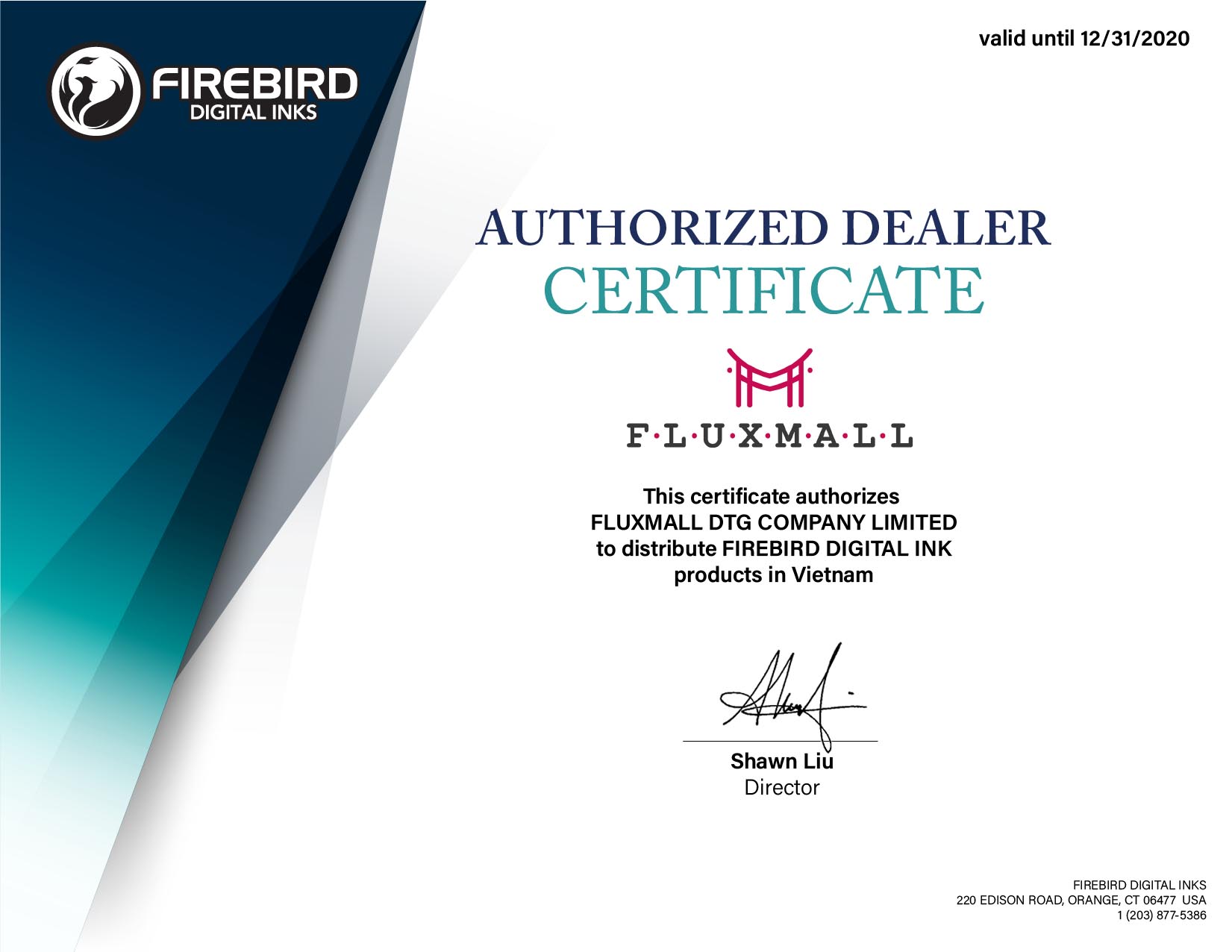 Being one of the DTG industry leaders in Vietnam, we purposefully chose to help our customers build their production process around eco-friendly pigment water-based inkjet inks. With these inks, the production cycle is shorter, as it eliminates post-treatment stage, compared to other types of inks (i.e. reactive) and reduces time to market. Thus, less power consumption, and close to zero waste water emitting.
In our business we use DuPont™ Artistri® inks and pretreatment liquids, and Image Armor™ and Firebird™ pretreatment solutions, which have received ECO PASSPORT by OEKO-TEX® certification from the Hohenstein Institute in Germany. This shows both ours and our supplier's commitment to the health and safety of the textile industry.