DTG M6 Direct To Garment Printer
The DTG Digital® M6 Industrial Direct to Garment Printer is designed for a wider range of textiles: from multiple garment prints to fashion panel decoration. It brings new features including advanced garment platen system that complement the demand for volume printing.
Package Price
Saves you up to 20%
in Hardware and Consumables costs!
The Printer and RIP software

Enhanced Starter Kit:
More inks and Pretreatments

Maintenance Kit and UPS unit

On-site Installation and 2-days Training
Highlights
4-2-1 platens

An all-new garment platen system made up of 3 sets of 4-2-1 platens allows prints to 3 x 4XL oversized garments, 6 x standard garments or 12 x smaller garments in one system thus reducing the need for multiple platens in production and utilizing the maximum field space of 1150mm x 650mm (extendable to 750mm) to its full capacity. You can configure your M6 to your market or grow into new markets and expand your profit options – it's flexible!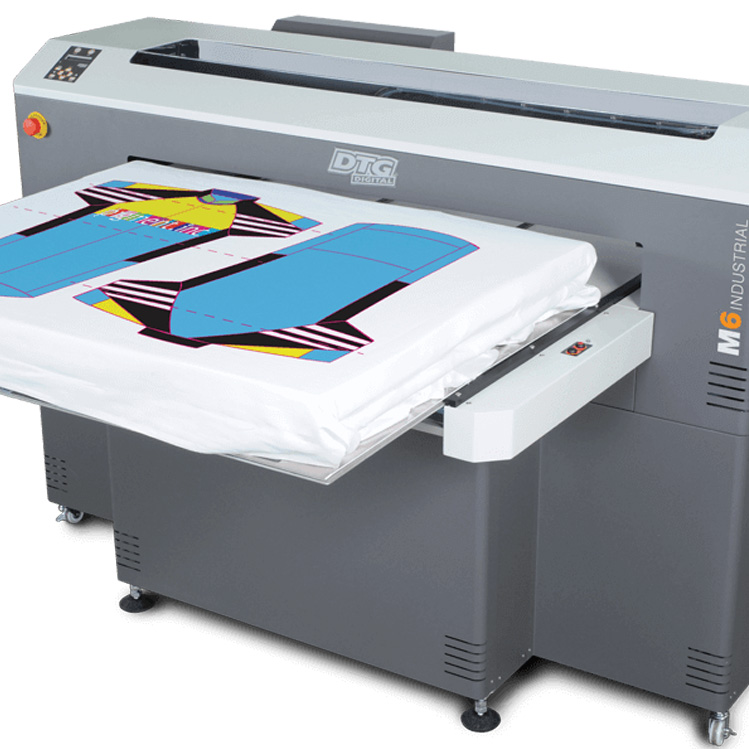 Fashion Panel Printing

There is no need for a roll to roll sticky belt which means a massive reduction in equipment and manpower costs. The DTG Digital M6 supports common panel sizes up to 1100 x 980mm. Fabrics and cut piece as well as multiple finished garments can be decorated at just under 100 square feet per hour with the dual CMYK piezo print head with a minimum 3.5 pl drop size for incredibly fine detail through to 48 pl large ink drops for rapid production with penetration.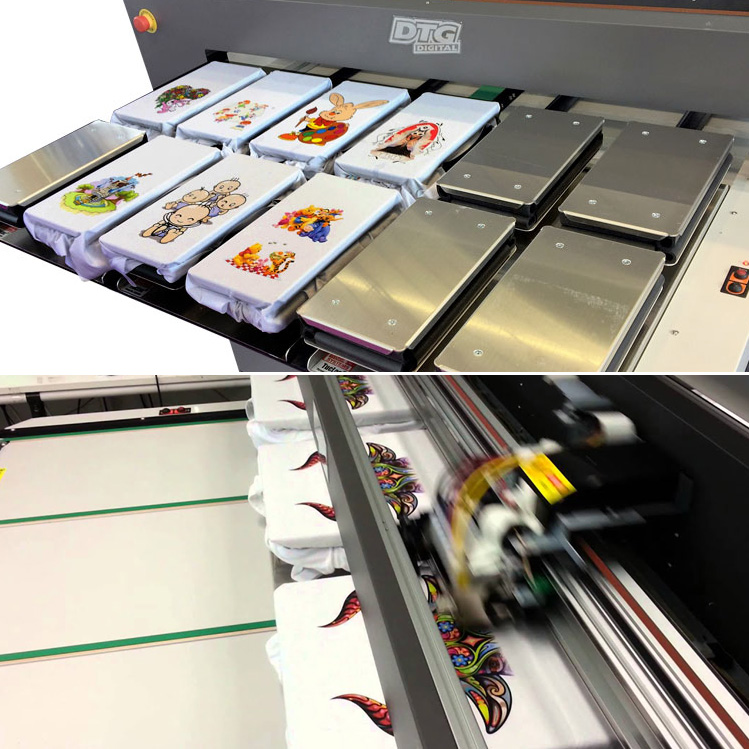 Conveyor Drive System

The unique conveyor drive system with a simple 'lift-off' removable platen allows even greater productivity. Simply add a second platen system and prep your garments while the machine is printing, to create a "quick-swap" workflow environment. For ease of use finished garments can either be returned to the front of the machine (if you are operating in a tight area) or can be ejected to the rear of the printer for faster garment reloading.
Brochures
Technical Specifications